I love when Authors put out free anthologies so that you can get a taste of their work without having to dish out hard earned money, it's a great way to find authors you like and allows the reader to be a bit wiser with their purchases. I recently had the pleasure of reading Smutpunk Erotica Collab, an anthology that included a few authors that I was already familiar with and introduced me to some new ones as well.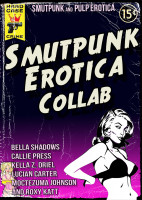 Shaun's rating:
I'm not going to go into an in-depth review of the stories here, I will say that all the stories are well written and edited, and that there is quite a variety to the stories though all have that Smutpunk feel. You'll find phallogynes, yetis, dinosaurs, and even time travelling cyborgs. It's a fun read that is sexy at times. The best thing is that this book allows the reader to sample Smutpunk, and various authors style. Best of all it's free on Smashwords!
I'm giving this book five out of five paddles, I highly recommend it.